Happy Friday!  Linking up for Five on Friday with Darci, Christina, Liz, and Natasha.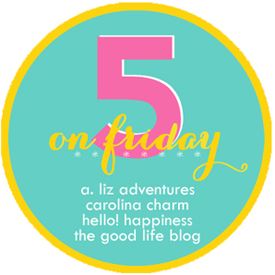 01.  Every Day Cheer:  My friends and I launched a new blog this week called Every Day Cheer.  It is going to be filled with so much goodness — recipes, fashion, DIY, gift guides, photography tips, and so much more.  Be sure to subscribe!
04.  Mini Mason Jar Pecan Pies:  Speaking of Every Day Cheer my friend, Ashley, shared a recipe for mini mason jar pecan pies.  I have a serious obsession with mason jars so this is a must do for Thanksgiving this year.  Find the recipe:  HERE
03.  Sony Nex-6:  My friend, Erin, posts the cutest pictures of her little Lex on Instagram.  Knowing she is a former photographer one day I had the gall to ask her if she carries around her digital SLR camera with her to capture all of these darling images.  That's when she shared her little secret with me.  She uses the Sony Nex-6 which has a WIFI button that connects to an app on your phone.  I picked one up last week and have been having so much fun with it.  Love that I get digital SLR quality images with a camera that's the size of a point & shoot.
04.  School Pictures:  Speaking of pictures Hudson & Ella got their school pictures back a couple of weeks ago.  I am a sucker for school pictures – I would buy them no matter what.  But I just couldn't get over how cute these turned out.
05.  Sleepworks:  My friends and I were raving about Sleepworks over the weekend.  And I couldn't believe that I've never professed my love for it here.  Sleepworks is a liquid vitamin and herbal supplement that helps you to fall asleep, stay asleep, and awake refreshed.  I used to take Tylenol PM from time to time in the past but I stopped once I had children because it felt like I could just never get enough sleep and I always woke up in a fog the next year.  I love Sleepworks because I don't have that feeling at all.  You can find more information or purchase it HERE.