Happy Friday friends!  Linking up for Five on Friday with Darci, Christina, Liz, and Natasha.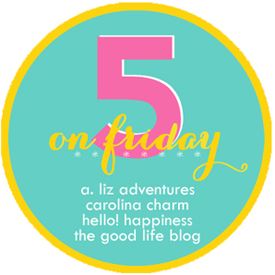 01.  Christmas PJ Party Link Up – I love my littles in holiday themed pajamas.  Especially Christmas jammies.  My friends Darci, Natasha, Ashley, Julie and I are hosting a Christmas Pajama Party link up on December 10th (ending December 30th).  You can link up on Instagram (#hollyjollypjparty), on our blogs, or both.  Don't forget to include the graphic below in your post.
02.  Christmas Decor Wishlist – My holiday decor wishlist just keeps expanding.  How cute are these vintage Santa mugs?  A must for Christmas morning coffee.  And this doormat?  Get out of town.  Too cute!
03.  150 Stocking Stuffer Ideas – A couple of weeks ago I posted a list of 150 stocking stuffer ideas for women, men, and kids.  If you are still on the lookout for gifts be sure to check it out.  Tons of gift options for everyone in your life.
04.  Holiday Recipes – I have been collecting some new holiday recipes that I'd like to try.  Including this delicious looking cranberry-jalapeno dip:
05.  Christmas Bucket List –  I'm sure it's apparent that Christmas is my favorite holiday. 
  We try to partake in every fun holiday activity that we can think of.  I created a Christmas bucket list printable so that we can make the most of the season: