Happy Friday friends!  Linking up for Five on Friday with Darci, Christina, Liz, and Natasha.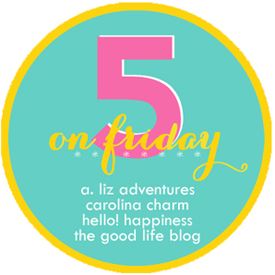 01.  Hudson & Ella's last day of school was yesterday.  They came home to these fun welcome to summer bucket full of goodies.  Head over to snag the printable sticker & banner.
02.  We have been busy getting our vegetable garden together and planting some hydrangeas.  Needless to say there have been several trips to Lowes.  I nearly fell over when I saw this wooden box filled with perfectly arranged succulents.  It had to come home with me!
03.  I am craving some of my favorite summer foods which include lots of fresh fruits and veggies.  This salad is right up my alley:
04.  I have always been a fan of The Nester and recently received a copy of her book.  Dying over it and all of the pretty pictures of her home.  Read it if you get the chance!
05.  I am loving the look of denim shorts, a white tee, and a kimono.  Need a kimono in my life pronto.  Which one do you like better this one or this one?
Have a great weekend!