Happy Friday!  Linking up for Five on Friday with Darci, Christina, Liz, and Natasha.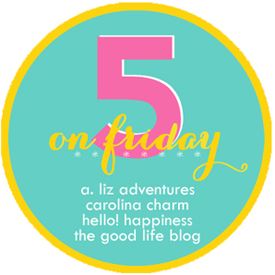 For this edition of Five on Friday I'm sharing some of my favorite Christmas finds:
01.  Baked for Santa cookie stamp – I think these cookies are just darling.  And that I need one of these stamps in my life, pronto.
02.  Galvanized Christmas Tree Collar – I fell in love with this Christmas tree collar when I spied it in the Crate and Barrel catalog.  Wouldn't it just go perfectly in my house?
03.  Cranberry & Rosemary Sangria – How delicious does this recipe look?
04.  Christmas Pajamas – Nothing is better than my kids in holiday themed jammies.  I just love it.
Santa's Little Helper Pajama Set
05.  Christmas Movies – I go crazy with the DVR this time of year.  Recording every holiday related thing.  For the Mommas posted this year's airing schedule.  Check it out here.
Have a great weekend!