Happy Friday!  Linking up for Five on Friday with Darci, Christina, Liz, and Natasha.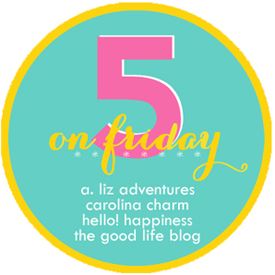 As you know I just returned from the Making Things Happen Conference.  I shared my recap HERE.  I didn't take many pictures as our phones weren't allowed in the conference each day and the ones I did take aren't the best quality.  But for this Five on Friday I am sharing a little of my week.
01.  Dinner at City Kitchen – Kylie set up a dinner for the attendees the night before the conference.  It was lovely getting to meet some new friends and to catch up with Whitney and Ashley.
Whitney, April, Ashley, and Holly
02.  Roomies – My fancy roomie, Ashley, got us matching pajamas and monogrammed them.  We stayed up far too late every night chatting.  Love this girl!
03.  The Conference – Since we had to give up our phones before walking into the conference each morning Lara snapped and shared this one of the group before we got started.
04.  Dinner at 411 West – We had a table of about 30 people but didn't snap a single photo.  As we were walking out the door I asked the hostess to snap one of the last people to leave.
Ashley, Kylie and Molly, and Caroline
05.  Dinner at Mellow Mushroom – the last night to say we were all beat was just an understatement.  Ashley, Kylie, Molly, Caroline, and I had a mellow dinner and recap of our experience.